One Of Them Girls lyrics
Title: One Of Them Girls
Album: The Anomaly
Producer: Baba G

Hook
Oh you one them girls. Oh you one them girls.
Verse 1
Hit the liquor store to pick up adult concoctions
That make girls want to give oral adoptions.
At the light on the way back, what did I see?
A lil brunette checking for me.
Another opportunity for me and Rich James
To get dames, so I switched lanes.
Pulled the Ford truck right up beside 'em
The driver said "Baby I like how you're riding."
I like that you're smiling so wuddup shawty.
We live up the block and tonight's my party.
I bet you like birthday cake. Wanna help me celebrate?
She said "I can't. I gotta go to work but hey
Why don't you and your friend
Get with me and my friend
Maybe all of us can…" Stop right there
What exactly is it you do? She said
"My bad. I thought you knew we
Work at the club. We dance for dough. You should
Come see us if you get a chance to go.
We could do a private dance for yall.
I smiled, but in my head I was saying hell nah.
Couldn't be mean and call her a hoe.
So instead I just said, OHHHHHH.
Verse 2 (Rich James)
I'm sitting in the bar checking out this chick
Her waist is small and her ass is thick
So I walk up to her and I say Hi miss
She automatically gives me a kiss
Then she whispers in my ear, do you want this
I say hell yes and we exit
Back to my crib, now she all on my dick
She got booty naked and I said, Awww shit
I'm about to tap that
All up in that tight cat
Feeling on her ass crack
Then I pull it out, splat
Now she telling me she wanna have my baby
I say, bitch, you gotta be crazy
I barely even know you
Plus you is a hoe too
Get up outta my crib
Before I break your ribs
All hoes getting from me is a nut
Bust in their face never in their guts
Verse 3
Next night it was time for wildin.
Captain Pat and Bookem said let's hit up J Island.
We hit the bar, Rich James by my sizzide.
All getting frizzide, when I looked rizzight.
Three fo dimes, checked 'em three fo times.
Gotta big Secret. I aint leaving till they know mines.
Didn't make a move cuz they stepped to us.
But what came out their mouth caused much disgust.
No hi. No smile. No wink. Just
"Hey fellas want to buy us a drink."
I was stunned. Straight dumbfounded.
Looked at Dan and said "I'm clowning."
Don't even know my name,
But you're trying to get my change
And got the nerve to ask me why I'm looking at you strange.
Pat was gonna take yall sailing on the Hozro.
But you played yourself for five dollar Cosmo.
Click through the albums below and select any song to see the full lyrics for your favorite Infinite Skillz track while you listen.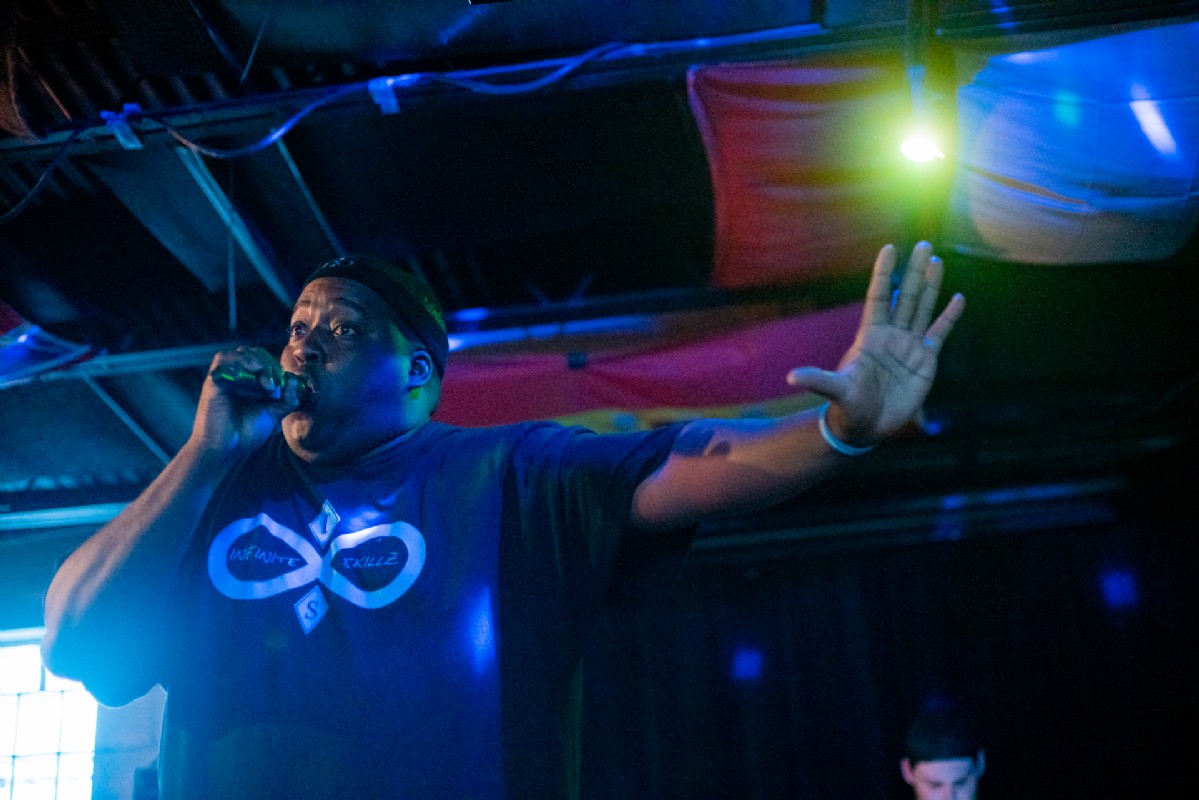 *All lyrics written by Infinite Skillz unless otherwise stated.