I Need You (Hip Hop) lyrics
Title: I Need You (Hip Hop)
Album: Slave Music
Producer: Mr. J
Verse 1
Dances are cool, but what about your flows.
What about your tracks and what about your shows?
We make fans clap hands, fill stands like the pros.
Got them screaming out chants like a man is supposed
You're trying to be king, but you're just dreaming.
Got no real vision just a whole lot of scheming.
I'm not concerned with your wack apparel.
I'll leaving you lying by the highway like Cracker Barrel.
No curse homey. It's all gift around here.
We keep it tight. Flour can't sift around here.
A backpack emcee but just a little different.
Cuz I'm trying to stack paper like I work for Dundler Mifflin
And yeah I harvest beats but don't call me Dwight.
Or I'll get to digging and you'll be missing by tonight
Yall make noise when you get on the mic.
But a brother like me makes noise with his life!
Verse 2
Most rappers these days are either garbage or putrid.
Only time they spit sick is when they're gargling mucous.
You could say it's flimflam; I treat them like the Tin Man
Got no love for them so I beat them with my pen hand
I'm comfortable on stage, and that's not an accident.
While yall were BSing I was home putting practice in.
To match my pace, yall need coke.
I keep the lines moving, my bars need spokes.
I'm in the booth like producers gave me fed time
For those sleeping, it's the opposite of bedtime.
I do this in my leisure but you still gotta pay me.
Imagine if a brother got to do this on the daily.
Man that would be crazy. Radio would have to play me.
Holla at me if you're born before the 80s.
Well this music surely was. It gives me the purest buzz.
If you're listening, I'm doing this because
Verse 3
When my daily grind starts to adversely affect
That thing on my neck I whisper Hip Hop
Now some may have a problem telling you the truth.
But I yell it from the booth. Hey Hip Hop!
Prepping for games, stretching a dame
Or blessing a lame; the lesson's the same.
I could lose my money, my job, my mind
But if I still have you I'm fine.
When I'm down and start to lose my way
I throw on a beat from Mr. J and say
Gripping a Full Clip steady Ready to Die,
Or standing in Muddy Waters I still can't lie.
When Things Fall Apart and I have a Relapse
I yearn for the Return of the Boom Bap
I could be Ecstatic or some Jealous One's Envy
But this culture I love will still be in me.
Click through the albums below and select any song to see the full lyrics for your favorite Infinite Skillz track while you listen.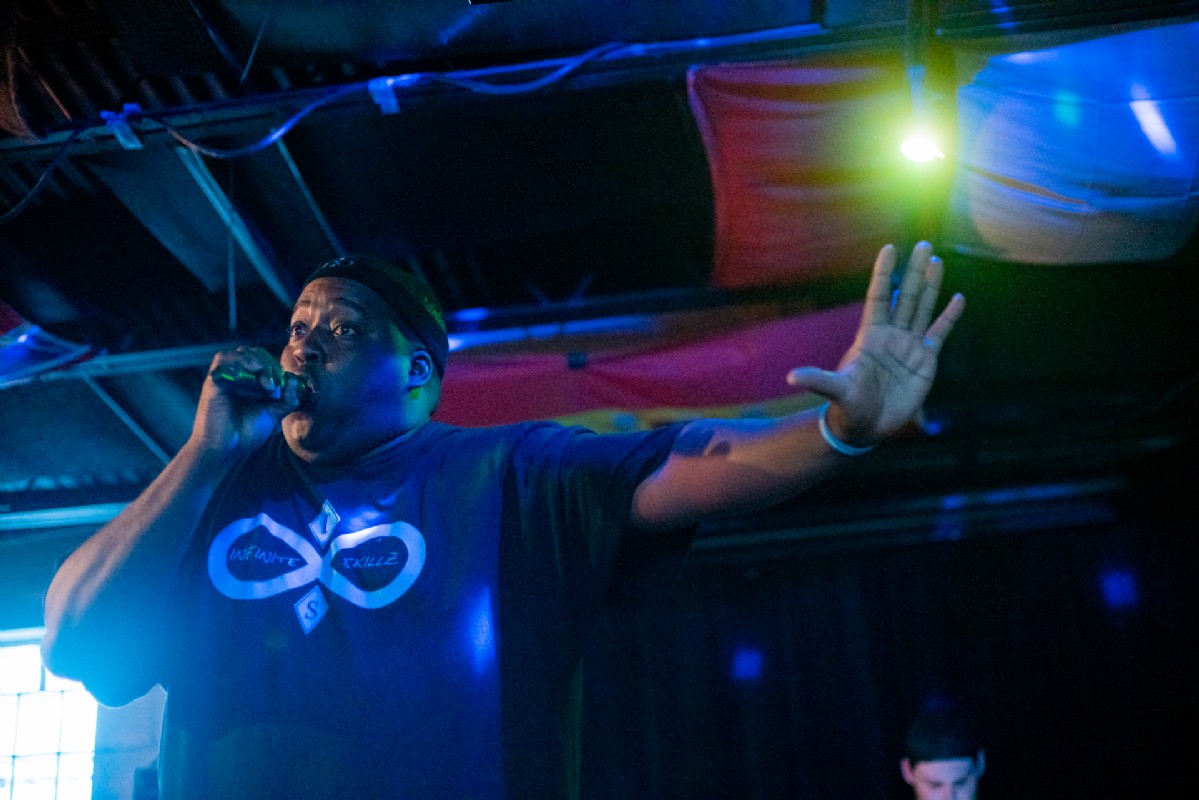 *All lyrics written by Infinite Skillz unless otherwise stated.